Reading Time:
6
minutes
This article is adapted from AQ's special report on Lula and Latin America
Amid growing tensions between the world's largest superpowers, much of Latin America has taken an independent approach to foreign relations. Countries are increasingly following a path that Chilean scholars Carlos Fortin, Jorge Heine and Carlos Ominami titled the "active non-alignment option." Regional integration is a top concern for some leaders, while others are seeking engagement far beyond the Western Hemisphere. Meanwhile, policy choices have to contend with domestic infrastructure challenges and a global concern with the impacts of climate change.
In this snapshot, AQ tracks priorities in external relations in eight countries, including positions on Venezuela, the U.S. and China, and provides key indicators related to trade, climate and infrastructure.
---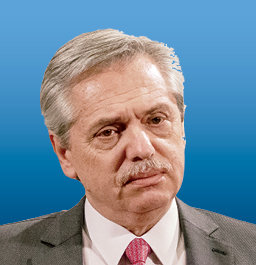 Alberto Fernández

Trade: 33% of GDP
Memberships: Mercosur, G20
Trade Agreements: 8

Argentina
Argentina's most strategic regional relationship is with its top trading partner, Brazil. President Alberto Fernández, whose term ends in December, has prioritized strong ties with President Luiz Inácio Lula da Silva. Argentina's policy towards Venezuela has shifted in recent years, as former President Mauricio Macri (2015-19) recognized Juan Guaidó as president rather than Nicolás Maduro. Fernández reestablished full diplomatic ties and called on the region to support negotiations between the Venezuelan government and the opposition. Argentina has maintained a cordial relationship with the U.S. while deepening ties with China, joining the Belt and Road Initiative in 2022. Recent Chinese economic activity includes railways, lithium mining and the automotive sector.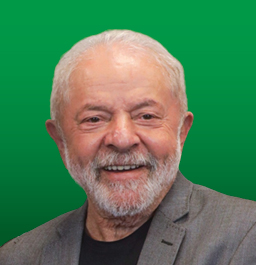 Luiz Inácio Lula da Silva

Trade: 39% of GDP
Memberships: Mercosur, BRICS, G20,
Amazon Cooperation Organization (ACTO)
Trade Agreements: 9
Brazil
After a period of relative isolation during the Jair Bolsonaro presidency, Brazil resumed active global engagement on a variety of fronts. President Luiz Inácio Lula da Silva seeks to strengthen the BRICS bloc and has proposed to form a group with India, China and Indonesia to try to mediate peace talks between Russia and Ukraine. The president hopes to finalize the EU-Mercosur trade deal and told his Uruguayan counterpart the bloc could also discuss an agreement with China, Brazil's top trading partner. Lula sought to expand the Brazil-China bilateral relationship in a state visit to Beijing in April and signaled his commitment to strong U.S. ties during a February meeting with President Joe Biden. After diplomatic ties were severed in 2020, Brazil is restoring diplomatic relations with Venezuela.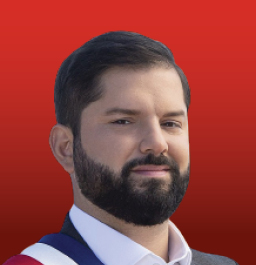 Gabriel Boric

Trade: 64% of GDP
Memberships: Pacific Alliance, APEC, CPTPP, OECD
Trade Agreements: 31
Chile
Chile retains a high level of regional and global engagement, particularly with the Asia-Pacific region, formally joining the Trans-Pacific Partnership (CPTPP) this February. China is easily Chile's top trading partner, and their diplomatic relations remain strong. President Gabriel Boric committed to reinforce bilateral ties during a meeting with Xi Jinping at last November's Asia-Pacific Economic Cooperation summit. He has maintained Chile's close relationship with the U.S. (Chileans are the only Latin Americans that do not need a visa to visit the country.) A leftist progressive, Boric has denounced human rights abuses in Nicaragua and Venezuela, but stated that Venezuela's return to multilateral organizations is necessary to help resolve the country's crisis.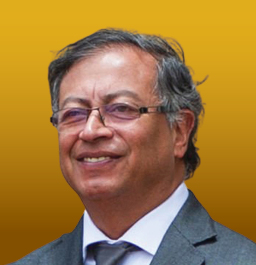 Gustavo Petro

Trade: 41% of GDP
Memberships: Pacific Alliance, Comunidad Andina, OECD, Amazon Cooperation Organization (ACTO)
Trade Agreements: 14
Colombia
Colombia's foreign relations have been shaped by security and migration dynamics, although there has been significant change under Gustavo Petro, the country's first leftist president of the modern era. The U.S. is a longstanding ally, but the security-based relationship is shifting given Petro's criticism of the war on drugs and his attempt to forge "total peace" with armed groups. Approximately 2.5 million Venezuelans live in Colombia. Petro restored diplomatic relations with Venezuela, reopened the borders and signed a deal to boost trade. With Brazil's Lula, Petro discussed a potential pact to protect the Amazon. Sino-Colombian relations expanded during Iván Duque's term (2018-22), and may deepen under Petro, including a presidential visit to China.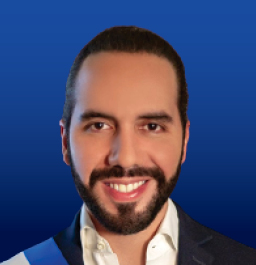 Nayib Bukele

Trade: 84% of GDP
Memberships: SICA (Sistema de la Integración Centroamericana)
Trade Agreements: 13
El Salvador
El Salvador has had an outsized influence in the region in recent years. President Nayib Bukele's mano dura security approach has won him admiration across much of Latin America, despite concerns over human rights abuses, leading to coordination on anti-gang strategies with other countries. Washington has registered increasing concern over democratic backsliding and corruption, and remittances from the large Salvadoran diaspora in the U.S. accounted for 25% of El Salvador's GDP in 2021. The country does not recognize Venezuelan President Nicolás Maduro, and the countries expelled each other's diplomats in 2019. El Salvador switched its diplomatic recognition from Taiwan to China in 2018, joining the Belt and Road Initiative. Bukele has deepened the relationship and is pursuing a bilateral free trade agreement.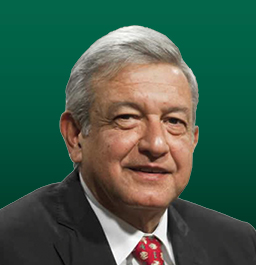 Andrés Manuel López Obrador

Trade: 84% of GDP
Memberships: Pacific Alliance, APEC, USMCA, CPTPP, G20, OECD
Trade Agreements: 23
Mexico
Mexico's foreign policy has been marked by migration and trade, although both have been shaken by politics in recent years. Approximately 80% of Mexican exports head to the U.S., and the countries' supply chains are deeply integrated, although tensions have often flared, with the U.S. criticizing growing state control over Mexico's energy sector. President Andrés Manuel López Obrador has sought to change U.S. policy towards Cuba and Venezuela and has asked for more cooperation with Central America to stem the flow of migrants. López Obrador openly criticized the arrest of Peru's former President Pedro Castillo, which led the Peruvian government to recall its ambassador in Mexico and expel the Mexican ambassador from Lima. Mexico hosted talks between the Maduro government and the Venezuelan opposition and offered asylum to exiled Nicaraguans, but avoided denouncing the Ortega regime. Nearshoring has led to a recent surge in Chinese investment in Mexico's northern manufacturing zones.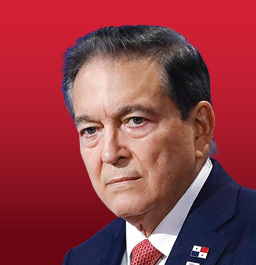 Laurentino Cortizo

Trade: 93% of GDP
Memberships: SICA (Sistema de la Integración Centroamericana)
Trade Agreements: 18
Panama
The Panama Canal plays a key role in global trade, and activity from foreign countries in the canal zone has been an important factor in the country's foreign policy. About 140 large multinationals are headquartered in Panama due to incentives. In May 2022, President Laurentino Cortizo described the U.S. as Panama's most strategic partner, but noted that China was the second main user of the canal. The canal zone has seen an increase in Chinese infrastructure projects in recent years, and Cortizo has pledged to restart long-stalled negotiations with China over a free trade agreement. The president opposed the U.S. decision to exclude Venezuela, Cuba and Nicaragua from the 2022 Summit of the Americas, and supports dialogue between Maduro's government and the Venezuelan opposition.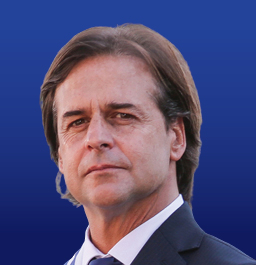 Luis Lacalle Pou

Trade: 57% of GDP
Membership: Mercosur
Trade Agreements: 8
Uruguay
Uruguay has expanded its foreign policy focus beyond Mercosur and the U.S. to seek more engagement with the Asia-Pacific region. In 2022, President Luis Lacalle Pou said that "The United States government is not looking to the south. This is a problem for us." Uruguay has requested to join the CPTPP and is in talks with China, its main trading partner, over a bilateral free trade agreement. Fellow Mercosur members expressed concern, due to the bloc's rule on jointly negotiating trade agreements. Lacalle Pou has criticized the inclusion of nations that "do not respect democracy or human rights" in the regional group CELAC. He has described Venezuela as a dictatorship, but appointed a Uruguayan ambassador to Venezuela after a seven-year gap.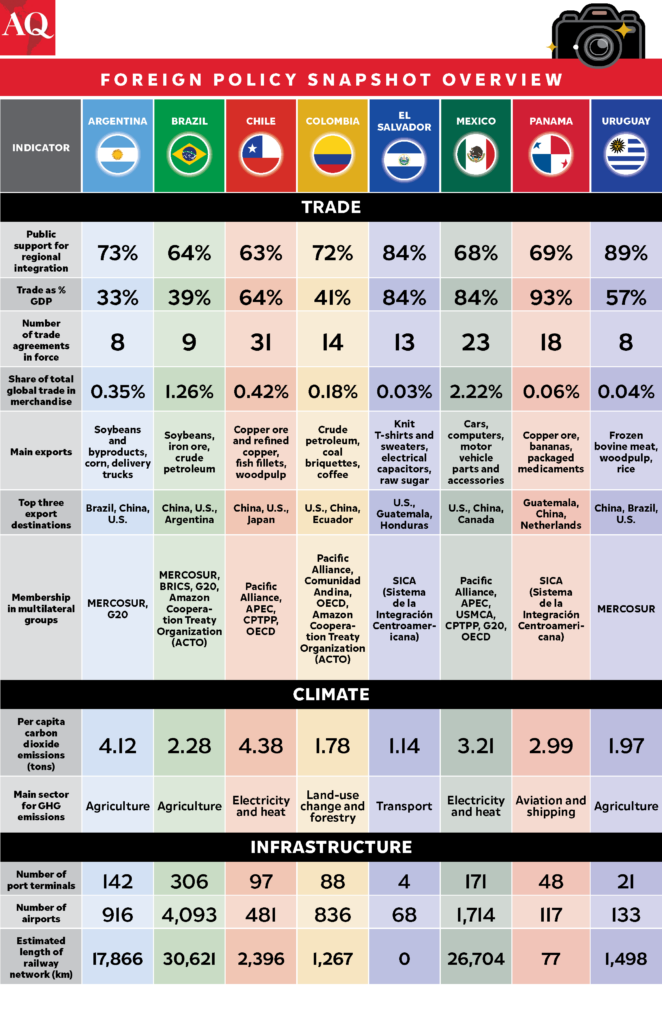 SOURCES: Public support for regional integration: IDB (2020); Trade as % GDP: World Bank (2021); Number of trade agreements in force: WTO (2023); Share of total global trade in merchandise: UNCTAD (2021); Main exports and top three export destinations: Observatory of Economic Complexity (2020); Per capita carbon dioxide emissions: Our World in Data (2021); Main source of GHG emissions: Our World in Data (2019); Number of port terminals: ECLAC (2019); Number of airports: CIA World Factbook (2021); Estimated length of railway network: International Union of Railways (2020-1).
Tags:
China and Latin America
,
foreign policy
,
foreign relations
,
regional integration