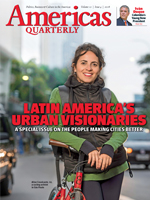 Special Report
How to make cities better? In this new issue of AQ, an inspiring group of Latin Americans shows why collaboration is just as important (really!) as money.
By MANUELA ANDREONI
A cycling enthusiast-turned-activist wanted to make the perilous streets of São Paulo safer for two-wheelers. She has gotten two different mayors to listen.
By BRIAN WINTER
Despite tough economic times, the mayor of Buenos Aires has invested heavily in infrastructure and education to reduce inequality.
By BRENDAN O'BOYLE
An entrepreneur in Ciudad Juárez creates a start up incubator and co-working space to attract talent and investment to the depressed border region.
By BENJAMIN RUSSELL
A Panama City architect-turned TV host raised her voice in defense of the environment. Now she's vice-mayor – and a globally recognized advocate.
By JOE PARKIN DANIELS
A young man from a low-income neighborhood in Cali, Colombia, goes from gang member to community leader and peacemaker.
Features
By BRANDEE McHALE
Innovative, sustainable urban initiatives are often rejected as expensive and complicated. Overcoming such roadblocks requires long-term thinking from policymakers.
By EDUARDO LEVY-YEYATI
How to prepare Latin America's workforce for a technological revolution.
From electric scooters to vertical gardens to young coders creating chatbots, nine promising initiatives that are changing Latin American cities for the better.
By SETH KUGEL
Beer makers (and drinkers) resurrect a run-down and under-utilized industrial area of Porto Alegre, Brazil.
By BRIAN WINTER
AQ's editor-in-chief profiles a guy he used to meet for beers in Washington. (He's now president of Colombia.)
A message from Chevron: Economic growth, powered by the development of energy resources, is a winning scenario for everyone.
Cultura
By BRENDAN O'BOYLE
Ciro Guerra's follow-up to the Oscar-nominated Embrace of the Serpent.
By SEBASTIÁN ZUBIETA
From Guadaloupean blues to old time boleros...
By BRET ROSEN
A review of Naomi Klein's Battle for Paradise.
By ALEJANDRA OLIVA
A review of Emiliano Monge's The Arid Sky.
Departments
By ALAN McPHERSON
In the 1970s, a wave of Cuba-related bombings and other attacks swept America.
By XIMENA ENRÍQUEZ
An interview with Luis Barrueto, President of Visibles, an LGBTIQ rights organization in Guatemala.
By EMILIE SWEIGART
A selection of the projects left on hold and prosecutors' estimates of the value of improper payments.