Reading Time:
4
minutes
MEXICO CITY – After a successful showing in gubernatorial elections in June, Mexico's ruling MORENA party is turning its attention to the 2024 presidential elections.
The question on everyone's lips is who its nominee will be. A hint came one week after the June elections, when President Andrés Manuel López Obrador's party held a huge rally in Mexico state, where the governorship is up for grabs next year. The presidential electoral cycle for 2024 hasn't officially begun, per rules set by the electoral commission, but all three main contenders for the next presidential nomination were there. In the order in which the current president seems to prefer them, they are: Mexico City Mayor Claudia Sheinbaum; current Secretary of the Interior Adán Augusto López; and Secretary of State Marcelo Ebrard.
Ricardo Monreal, the highest-ranking senator from MORENA also has ambitions to be the party's presidential candidate—but he wasn't invited. Monreal has been the president's ally for the past two decades. He told me in a recent interview that he believes he is being held responsible for the party's 2021 loss in local elections in Mexico City.
AMLO is hoping for his successor to continue his political program—known as the "Fourth Transformation"—even though with two years left in his presidency, his hoped-for legacy on combating poverty and inequality seems thin.
MORENA's nominee will be selected through a series of polls of party members, but the result is likely to be in line with AMLO's wishes. Claudia Sheinbaum is currently perceived as the president's closest ally, and his favorite choice of successor after she has worked hand in hand with him for the past three decades. She was elected mayor as a feminist with a progressive agenda, but in trying to please AMLO, Sheinbaum has changed her tune, initially dismissing feminist street protests (an attitude in line with the president's approach to discontent with his government). She also lacks AMLO's charisma, which may limit her broader appeal.
AMLO's other potential choice is Adán Augusto López. Originally from Tabasco, AMLO's home state, the relationship between the two goes beyond politics. They are practically family, a fact that represents a clear advantage for López's possible candidacy. The problem is that even though Augusto López runs the country's second most important office in AMLO's cabinet, he is little known at the national level.
Augusto López has demonstrated his loyalty to the president, even when it involves him in controversy. He was accused of violating an electoral tribunal prohibition on government officials campaigning for a recall vote in April by using a military plane to fly to the north of Mexico to speak about the vote. (AMLO maintained in a press conference that the visit was part of Augusto López's official duties.)
Leading the polls is the highly capable Marcelo Ebrard. Ebrard has his own political profile that, contrary to Sheinbaum or Augusto López, wasn't built around AMLO. But it is precisely this independence that hinders Ebrard's chances of being selected by the president. He is perceived as a man that would favor his own agenda before that of the Fourth Transformation and will likely be chosen only if AMLO sees no other way for MORENA to keep the presidency.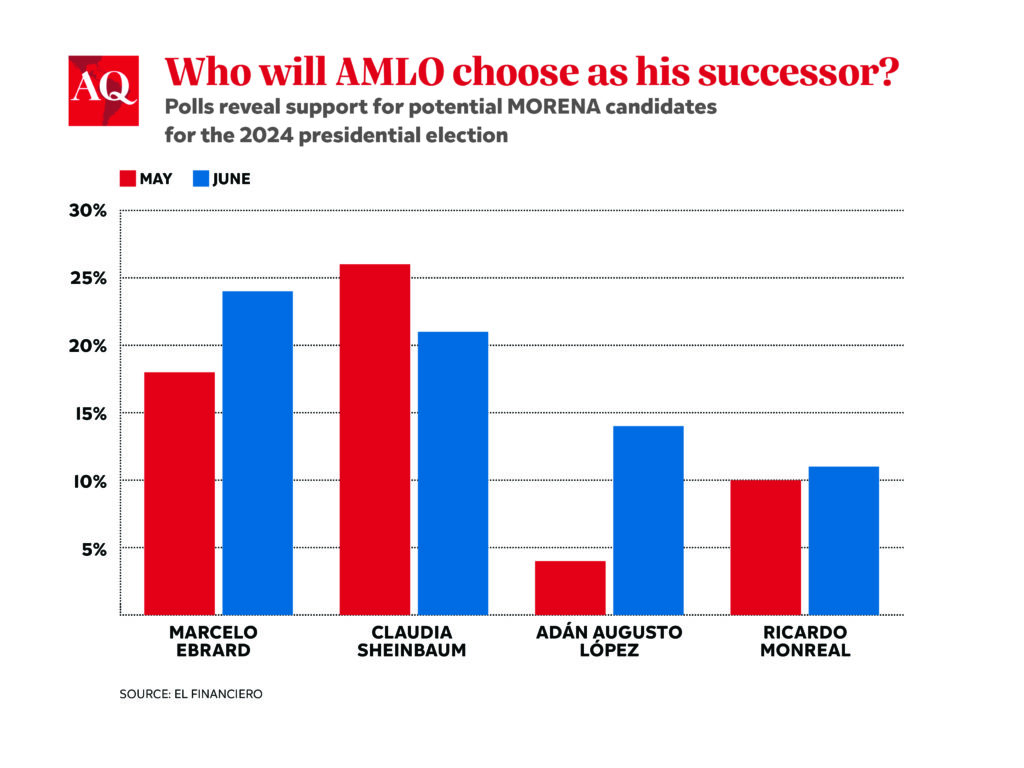 What about Mexico?
The issue with this early dispute is that the government, which should be focused on attracting investment, combating organized crime and rebuilding a severely deprived public health sector after the pandemic, is instead laser-focused on the 2024 elections.
The public debate centers almost exclusively on who the MORENA candidate will be. There are signs AMLO will go to great lengths to have a successor elected. The president has launched attacks on the electoral institute (INE), which has guaranteed free and fair elections over the past 20 years, including the one AMLO himself won in 2018.
It's also concerning to note that major opposition figures who have stated an interest in competing in 2024 are facing investigations and criticism from government figures and entities controlled by AMLO or his allies.
Such is the case with Ricardo Anaya of the Partido de Acción Nacional (PAN), who ended up in second place to AMLO in 2018. Anaya is living in exile as he faces a federal investigation that charges him with having received a bribe to vote in favor of an energy reform in 2014. (Anaya denies the charges and notes he was no longer in the Chamber of Deputies when the vote took place.) If he returns to Mexico, he could face prosecution.
Another contender facing pressure from AMLO's allies is the president of the Partido Revolucionario Institucional (PRI), Alejandro Moreno. Alito, as he is known, is under investigation by the attorney general in his home state of Campeche. The state's current MORENA-affiliated governor, Layda Sansores, has accused him of illicit enrichment during his 2015–2019 mandate and released incriminating recordings. Moreno alleges a campaign against him by MORENA and that the recordings are not authentic.
The mayor of Monterrey, Luis Donaldo Colosio Riojas, son of a prominent politician who was assassinated while running for the presidency in 1994, has been included in some polls, but has not said he is interested in running for the presidency.
As the next presidential elections draw nearer, the broader backdrop is discouraging. The economy has grown by a meager 1.8% in the first three months of 2022. As for public security, there are currently 26 homicides per 100,000 people in Mexico, the highest number since 2018. On corruption, Mexico is one of the lowest ranked on Transparency International's corruption index.
The opposition, meanwhile, is struggling both to find an attractive message and to select someone who can compete against MORENA's candidate, whoever AMLO ends up choosing. All of this leaves Mexico's most urgent problems unattended.
—
Ordorica is a journalist and analyst based in Mexico City
Tags:
AMLO
,
Ebrard
,
Mexico
,
Mexico Elections
,
Sheinbaum